1
Dumpster Rental Miami and Roll-Off Broward
3
10 Yard Dumpster
Equal to 3 Pickup Truck Loads
4000 pounds weight limit
Used For
Cleaning out the garage or attic.

Clean out of Garage, shed, or attic

Deck removal- About 200 to 250 square foot

Roofing shingles 2,000 to 2,500 square feet

Small bathroom or kitchen revelation

Concrete or dirt removal.
4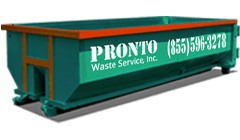 20-Yard
Roll-off Dumpster
8' W x 20' L x 4' H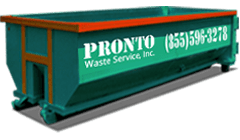 30-Yard
Roll-off Dumpster
8' W x 20' L x 6' H
10-Yard
Roll-off Dumpster
4' W x 10' L x 4' H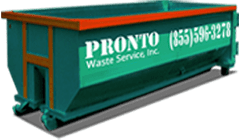 40-Yard
Roll-off Dumpster
8' W x 20' L x 8' H
5
How much can you
Put in 10 Yard Dumpster?
Look at your kitchen stove. Average stove takes approximately one cubic yard. If you put 5 ovens back to back, in two rows it will file the Roll-off dumpster. Most Miami and Broward driveway have the space for a 10-yard roll-off dumpster. The 10-yard will hold the trash removal and debris created in most household cleaning projects or small Home Renovation Project.
Tip: if you are not sure about what size dumpster to rent, call and ask Pronto Personal guide. She or he will guide you to the proper size.
For all your Roll-off dumpster rental, Pronto Waste Service is a trusted source. Read our reviews.
6
Frequently
Asked Questions (FAQ)
Q: How much can a 10-yard 'dumpster-rental' hold?

A: 10-yard Dumpster can hold 10 cubic yards (10 Stoves) of trash.

Q: How long Can I keep dumpster rental?

A: You can rent a Dumpster and keep it for 30 days.

Q: How quick will you deliver?

A: Pronto delivers as soon as you call.
Q: How much a 'Dumpster rental' cost?

A: Prices vary. But Pronto 'Dumpster rental' provide the best plan and the best possible service. Why: because we are a family business who treat all our client as a family. Call us today.

Q: How much debris can I load to 10-yard dumpster rental?

A: 10-yard dumpster can hold 10 cubic yards of waste. approximately 6 pickup truck loads. Or 10 Stoves