1
Dumpster Rental Miami and Roll-Off Broward
3
40 Yard Dumpster
Equal to 12 Pickup Truck Loads
10,000 – 12,000 pounds weight limit
Used For
House renovation

Home Roofing

Construction Projects
4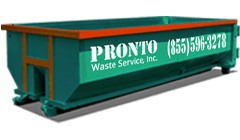 20-Yard
Roll-off Dumpster
8' W x 20' L x 4' H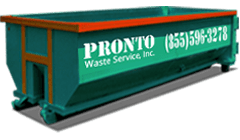 30-Yard
Roll-off Dumpster
8' W x 20' L x 6' H
10-Yard
Roll-off Dumpster
4' W x 10' L x 4' H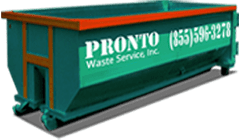 40-Yard
Roll-off Dumpster
8' W x 20' L x 8' H
5
Our skilled staffs are available on Monday to Friday 9 AM to 5 PM.

You can call to book dumpster.

Dumpster will be delivered to your place as soon as you call.
6
Frequently
Asked Questions (FAQ)
Q: How quick you deliver the dumpster?

A: Pronto delivers as soon as you call.

Q: How long can I keep dumpster rental?

A: You can rent a Dumpster and keep it for 30 days.
Q: How much dumpster rental cost?

A: Prices vary. But Pronto 'Dumpster rental' provide the best plan and the best possible service. Why: because we are a family business who treats our entire client as a family. Call us today.